2014 Parade of Homes™ Grand Award Winning Granite Kitchen by Zsolt Granite Corporation
Beautifully designed, expertly crafted, one of a kind. The homes featured in the annual The Parade of Homes™ can be described as each one of these, but only one can win the Grand Award for the Custom Home Showcase; naming them the best of the best in custom home design in Central Florida.
The Parade of Homes™ is an annual event in Central Florida that has taken place for more than 50 years. It is produced each year by the Greater Orlando Builders Association to showcase the area's elite homes. The Parade of Homes™ provides the Central Florida community an opportunity to learn about latest in home design, energy efficiency, green building applications, new home choices and more.
This year, the Grand Award went to a gorgeous custom home designed and built by Zoltan Construction LLC. But a great home is nothing without the designs and labor that is put into the interiors. For this task, Zoltan Construction LLC turned to Orlando and Gainesville-based granite fabrication and installation company, Zsolt Granite Corporation (ZGC).
Zsolt Granite Corporation chose this hand-selected, 6cm laminated chiseled edge stone to use in for gorgeous kitchen countertop of this award-winning home. But ZGC was also given the privilege of providing all of granite in this home. Countertops of granite, marble and quartz were all used by ZGC in the designing of the home.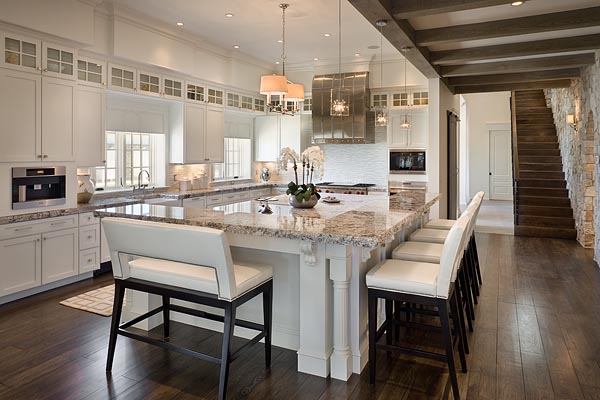 At Zsolt Granite Corporation we strive to bring you the best quality granite slabs at the amazing rates. Making any project, whether it is a multi-million dollar commercial project or a single bathroom vanity, one of showroom quality without the inflated prices. President, Zsolt Kuntarics believes in hand selecting only the highest quality granite slabs for his customers. This is why he travels from his Orlando and Gainesville-based granite warehouses to places such as Brazil and Spain in search of the best quality stones for the best prices.
Choosing ZGC means you'll have highly skilled artisans, working with the highest quality stones, for the best prices. Contact us today for more information about our different types of granite and how they can work with your next project.