Busby Cabinetry Orlando Center – Caesarstone Display, 2015 Orlando Parade of Homes Grand Award Winning Display
For four decades, Busby Cabinets has been the leading innovator in custom cabinetry in Florida. Recently, we've had the privilege of fabricating and installing a custom Caesarstone display for their Orlando Center. Working with Busby Cabinets on this display was a pleasure, as their business values align with our own: A primary focus on quality & craftsmanship, working with customers to achieve a functional and pleasing design, and providing the product in a timely manner with high standards for customer service.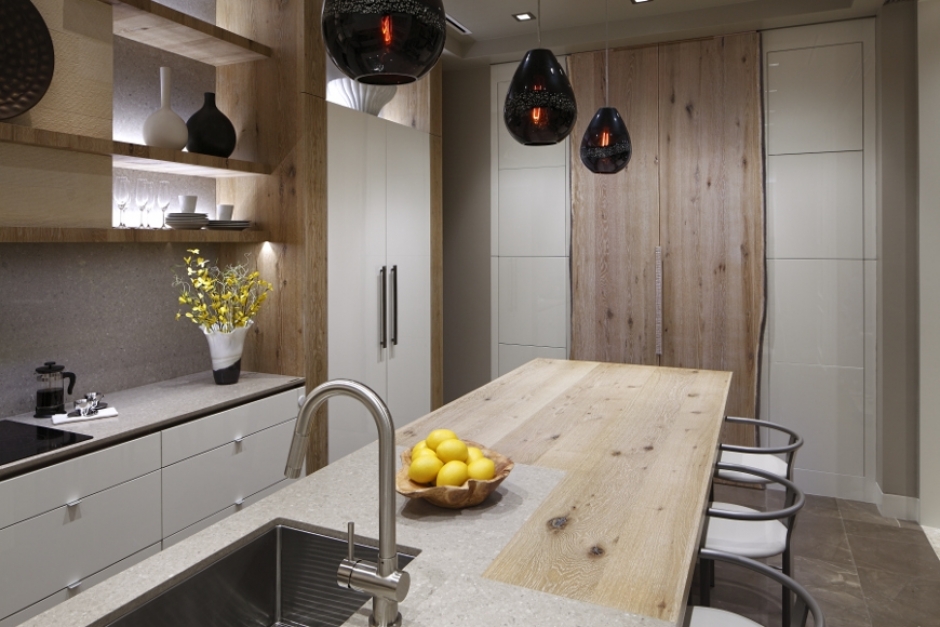 Using Caesarstone "Shiitake," form meets function with this elegant combination of quartz and hardwood. Caesarstone is a quartz product composed of natural stone, pigments and resins available in a multitude of colors and finishes that create a durable, beautiful product. The finished display shows the versatility of our work, combining multiple materials in the island, utilizing the vertical space to add full height splash, and adding inserts behind the shelving. This display was shown in the 2015 Orlando Parade of Homes – Remodel Showcase. Sponsored by the Greater Orlando Business Association, the 2015 Orlando Parade of Homes took place on April 18-19th from 10AM-6PM. This display, amongst others, could be viewed at this time.
At Zsolt Granite Corporation we strive to bring you the highest quality stone at affordable prices. President, Zsolt Kuntarics believes in hand selecting only the highest quality granite slabs for his customers. This is why he travels from his Orlando and Gainesville-based granite warehouses to places such as Brazil and Spain in search of the best stone for the best prices.
Choosing ZGC means you'll have highly skilled artisans, working with the highest quality stones, for the best prices. Contact us today for more information about our different types of granite and how they can work with your next project.
**Update: This display won the 2015 Spring Parade of Homes Design Grand Award for Specialty Showcase!